750 games PlayStation Portable



---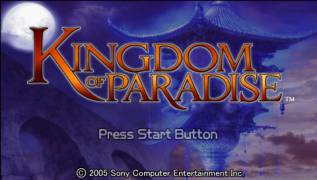 Kingdom of Paradise
The game takes place in a country that is very reminiscent of ancient China. However, as far as I remember, we have only one moon, so it is clearly a different planet. The entire continent is divided into several feudal kingdoms: Genbu, Seiryu, Suzaku, Byakko, and Kirin. Each of which is ruled by a certain clan with its own individual sword school.
The main character, a young man named Shinbu, a former student of the Seiryu school, once saves a girl, Sui Lin, who was being chased by assassins. From her, he learns that his former school has been destroyed, and he and Sui Lin are the last of its representatives left alive. Shinbu decides to help the girl restore Seiryu, and also find out who is behind all these thefts of clan relics - magical swords. Adventure begins...
Overall, the story is quite strong for an Action RPG. It is told very competently, with the preservation of intrigue to the last.
But the gameplay of Kingdom of Paradise does not shine with a special variety. We run around the world from location to location, deal with enemies by swotting on one button. In the cities we buy healers, equipment, upgrade the sword. But there is also a feature in the game, designed to bring at least some variety to this matter. It's called the Bugei scroll system. With it, you can create your own combo chains. Also in fights, it is always worth considering the resistance of enemies to certain schools of the sword.
Pumping is not only levels, but also individual parameters. If you often use magic (Chi Arts, to use it, you need to hold the square and release), then you will pump the mind, if you just bludgeon everyone with a sword, raise physics, etc.
---
GAME INFO
---
Game Name:
Kingdom of Paradise
Platform:
PlayStation Portable (PSP)
Developer:
Climax Entertainment
Publisher:
SCEI/SCEA/SCEE