750 games PlayStation Portable



---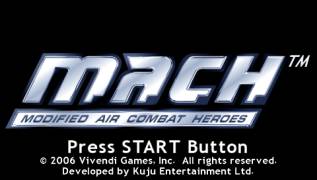 M.A.C.H. Modified Air Combat Heroes
After the law of the world government of 2049 to replace the air force with squadrons of unmanned flying robots, thousands of pilots were thrown into the street. No one, except for the criminal syndicates, agreed to lend a helping hand to the fighters left idle. Years passed. And under a veil of secrecy, in distant orbits, in the shadow of asteroid fields, a new army was gathering. An army that has its own accounts with an ungrateful state.
The world of MACH: Modified Air Combat Heroes is a brutal reality in which you have to fight for every new day of life. Trading in robbery attacks, fights with other pilots, illegal races and trade, each pilot pursues his own personal goals. The hunt for power and wealth, the desire to fly away from a dying world or an obsessive thirst for revenge - all together this creates the threat of a new, unprecedented war.
They didn't teach this at the academy! In the cruel world of MACH: Modified Air Combat Heroes, there is no place for the concepts of "friendship" and "honor". It has nothing to do with flying academy lessons. Only the most experienced of the former Air Force pilots will go through the harsh air wars. Are you ready for this fight?
From beginner to ace! Complete tasks and place serifs for each enemy you bring down. Over time, your status will rise to that of an elite fighter pilot. Enemies will think thrice before engaging such a professional.
Assemble your plane piece by piece! In the black markets of the future, there are a lot of forbidden weapons and equipment. Customize your fighter as you like. In total, more than one hundred and eighty configurations of combat vehicles are possible in the game.
Take to the skies with your friends. With the help of a wireless connection, eight opponents can converge in battle. Gather your company and find out which of you is the best pilot!
Completely in Russian. The game is fully translated into Russian and voiced by professional actors.
---
GAME INFO
---
Game Name:
M.A.C.H. Modified Air Combat Heroes
Platform:
PlayStation Portable (PSP)
Developer:
Kuju Entertainment
Publisher:
Sierra Entertainment