750 games PlayStation Portable



---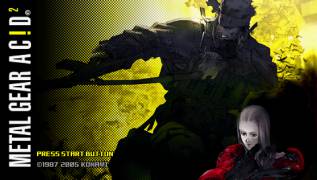 Metal Gear Acid 2
The brave commando Snake has come a long way, still preventing the terrorists from creating a weapon of mass destruction, codenamed Metal Gear. This machine was developed as a universal means for protecting the population and confronting the heavily armed forces of the enemy, but, falling into the wrong hands, it itself became a weapon. Several prototypes of the infernal machine have been successfully destroyed by Snake and his friends, but it's only a matter of time before new prototypes emerge...
In Metal Gear Ac!d 2, Snake once again takes on the greedy corporations that want to rule the world. Only now the cards fall differently: the desperate villains decided to eliminate the main obstacle to their plans - Snake himself. From a hunter, the main character turned into a victim. Two organizations immediately sent hired killers on the trail of a tireless warrior. His death is wanted by a corrupt military elite and, even worse, a secret women's organization codenamed "Venus". As you know, a woman is the most insidious enemy ...
More cards, good and different. The famous card battle system in Metal Gear Ac!d 2 has become even more interesting and convenient. The number of cards themselves has increased from two hundred to five hundred! Such a variety of the most positive impact on the gameplay - now you have even more sophisticated combinations in your hands!
Study, study and study again. For those who are trying their hand at the world of Metal Gear Ac!d for the first time, special training levels have been prepared. They will help you understand all the intricacies of the gameplay.
Believe your eyes. Although it's not easy. Graphic innovations have significantly changed the game. The characters look and move as if they were alive, and the explosions amaze with volume and entertainment. Detailing of three-dimensional scenes has increased, and interactivity once again proves that the virtual world is not so different from the real one.
Indulge in spy passions. An exciting plot will take you into the world of constant intrigues and insidious villains weaving conspiracies behind your back. You can only trust yourself!
Controlling Snake's actions is now easier! The invincible hero has learned to throw grenades, sneak unnoticed and even crawl.
Metal Gear Ac!d 2 unites platforms. By connecting your PSP to your PS2, you can download images from Metal Gear Solid 3: Subsistence to your mobile console, as well as discover a lot of interesting bonuses.
---
GAME INFO
---
Game Name:
Metal Gear Acid 2
Platform:
PlayStation Portable (PSP)
Developer:
Kojima Productions