750 games PlayStation Portable



---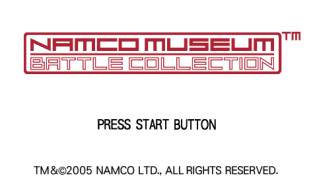 Namco Museum Battle Collection
What can you say about the collection of reissues? Perhaps, we will limit ourselves to listing those wonderful arcade games of the past that were included in it. These are 4 ingenious creations from Namco: Pac-Man, Galaxian, Rally-X, Dig Dug. Wireless communication allows you to arrange multiplayer matches with the participation of 4 people. In racing, shooting and even devouring opponents, prove that you are the one who best remembers how it was.
Namco's collection of arcade games such as Dig Up the Dugout, PAC-Man and Galaga and produced by Namco Tales Studio Ltd.. It was released for the PlayStation handheld in Japan on February 24, 2005 and consisted of eleven classic games from Namco's gaming history. The North American and European versions contained an additional ten games and was released on August 23, 2005. The European version, which was only released to the public, was released on December 9, 2005 and was again both Platinum and PSP Essentials Hits on May 6, 2009 and April 8, 2011 respectively.
The collection also contains four variants of several of Namco's better-known properties, known as gears. These games (Pec-Man, Dig the Dugout, Galaga and New Rally's) have updated presentation, and introduce a number of new gameplay concepts for each hosted title.
Classic games have the ability to rotate the screen ninety degrees to display the original arcade resolution along with other size options not typically found in the Namco Museum series. The game also uses the handheld game's game sharing feature to allow other players who don't have a copy of the game to play any of the classic titles of the first levels.
In addition, the games in this collection of ports, rather than real competitions, denoted by the fact that in the original modes, "waiting to start" screens (occurs after inserting credit, but before starting the game) have been replaced with modern "console" style options displayed in the style (font, etc.) of the original games. Options include "1P play", 2P play", and "options". Also added is the ability to select any level that the player has already played. The only games without an additional level select Druag's Tower and Grobda features due to the ability to continue the last game on any reached level, and the latter already have a stage selection.
---
GAME INFO
---
Game Name:
Namco Museum Battle Collection
Platform:
PlayStation Portable (PSP)