750 games PlayStation Portable



---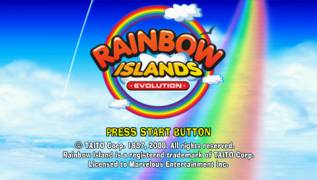 Rainbow Islands Evolution
Rainbow Islands Evolution for PSP takes us back in time to the era of uncomplicated platform games. Despite their outward simplicity and uncomplicatedness, it was truly exciting to play them. Rainbow Islands Evolution is made in the best traditions of a scrolling platformer, the controls are very convenient, and wonderful graphics will amaze your imagination and keep your PSP screen for many hours - a colorful world and charismatic characters will not leave you and your child indifferent.
On the PSP, this game will appear before us in a new form. Soft colors, expressive and rich graphic effects and artfully woven 3D elements have breathed new life into the familiar world of Rainbow Islands. Do not leave the thought that the third dimension from the very beginning was an integral part of the original, the "evolved" version of the old hit looks so harmonious and beautiful. In addition to the dapper graphics, Rainbow Islands Evolution even has a simple storyline.
Together with the characters of the game, Bob and Bub, we will walk through various island levels; each piece of land, surrounded on all sides by the sea, has its own architecture, size and inhabitants (the worst enemies of Bob and Bub). As in 1987, the main help of the player is the rainbow.
Only with the help of multi-colored semicircles, you can climb onto the platforms and defeat seemingly invincible opponents. At the very end of the game, another manifestation of Evil awaits us, only this time in Rainbow Island style - Evil is cheerful, bright and funny. The interface is clear and informative. At any time, you can find out about the available power-ups, the number of unused rainbows and the height at which we are.
---
GAME INFO
---
Game Name:
Rainbow Islands Evolution
Platform:
PlayStation Portable (PSP)
Developer:
Marvelous Entertainment