750 games PlayStation Portable



---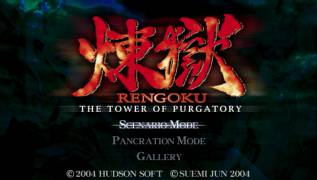 Rengoku: The Tower of Purgatory
The dark world of Rengoku is brought to life by the imagination of famous Japanese designer Jun Suemi. The oppressive atmosphere of the game, saturated with melancholy and hopelessness, will not leave anyone indifferent. Designed in the spirit of cyberpunk, the gaming universe combines elements of Western and Eastern culture.
In the main role of a dramatic story - the android ADAM Waking up in a strange tower, the thinking robot was completely humanly confused. Where is he? How and, most importantly, why did you get here? All the answers lie in the upper floors of the colossal structure, but the path to get there is not easy. The corridors of the tower are filled with the same machines as ADAM, mercilessly destroying each other. What kind of place is it?!
Fight for freedom and information! Fighting is in full swing in the corridors of the tower, but not only enemies - the architecture itself prevents progress towards the goal. The level layout changes randomly and cannot be learned! Every time you start the game, you don't know where death is hiding.
The robot is a weapon in itself. Upgrade your own parts, thus gaining access to new means of destruction.
The graphics quality is unthinkable for a PSP! The developers tried to make the most of the PlayStation Portable, and they succeeded. Previously, only "large" consoles could boast of such special effects and detailing.
The labyrinth is ready to accept four living fighters. Using the Wi-Fi function, players will be able not only to engage in mortal combat with each other, but also to exchange various items of equipment.
Rengoku is designed by a legendary craftsman. Jun Suemi personally worked on the game!
---
GAME INFO
---
Game Name:
Rengoku: The Tower of Purgatory
Platform:
PlayStation Portable (PSP)