750 games PlayStation Portable



---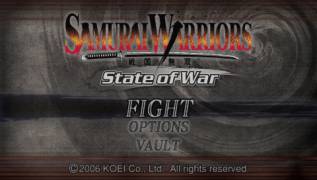 Samurai Warriors: State of War
The game Samurai Warriors: State of War takes place in an era when Japan was swept by a wave of civil war. Scattered small and large principalities waged an internecine war for power over the territory, the country lay in ruins, and the common people and peasants were poor. In this troubled time, famous historical figures, despite the resistance, did their best to bring the country to peace and end the war. Nobunaga Oda, Shingen Takeda, and Kenshin Uesugi, these valiant commanders stood at the head of those forces that stopped the chaos and restored Japan.
The plot of Samurai Warriors: State of War on PSP will allow you to take part in one of the most cruel and bloody pages of the history of ancient Japan. Battles with superior enemy forces, sieges of castles and the capture of impregnable fortresses. Foot battles and horse battles, edged weapons, spears and firearms. By choosing one of the famous commanders, you can go through the story, personally participating in famous battles and battles. You will meet historical figures and fictional characters, a true story intertwined with myths and legends.
The process in Samurai Warriors: State of War is divided into several modes, the planning process and the action mode. In planning mode, you can choose the path of movement on the tactical map, recruit additional characters and equip various items. If in planning mode you meet an enemy on the map, the game switches to active action mode. You will have the opportunity to personally participate in the battle with previously equipped weapons, use special abilities and additional items. In addition to the usual enemies in the game, you will meet a lot of harsh and serious bosses, many of which will turn out to be real historical characters. For example, the famous soldier Yukimura Sanada, or the famous ninja, Hattori Hanzo. Each of them will correspond to its prototype, both in weapons and in special moves.
The historical company of the game Samurai Warriors: State of War on PSP, famous characters and commanders, along with beautiful graphics and sound, can captivate you for a long time with their unforgettable world of historical Japan.
---
GAME INFO
---
Game Name:
Samurai Warriors: State of War
Platform:
PlayStation Portable (PSP)