750 games PlayStation Portable



---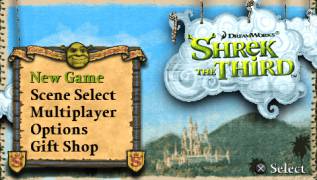 Shrek the Third
The iconic cartoon character is back! In the third part of Shrek's adventures, familiar characters get into even more exciting adventures, fight against insidious villains and prepare for the arrival of the new king of Far Far Away! But who will it be: the evil Prince Charming or the people's favorite Shrek? This time you will not only see an exciting fairy tale on the screen, but also play a decisive role in it!
Fantastic events are taking place in the magical kingdom. The main character, good-natured cannibal Shrek, married Princess Fiona and is now preparing to become a ruler! But the treacherous Prince, having enlisted the support of a knightly order, decides to seize the throne by force. Will true friends be able to withstand difficult trials - now it depends only on you. Immerse yourself in incredible adventures with legendary heroes!
famous characters. You will meet all the heroes of the previous parts of the cartoon, as well as meet new characters. Donkey, Puss in Boots, Shrek, Princess Fiona, Sleeping Beauty and many others will cheer you up with their unforgettable jokes!
Unique tricks. Each character is endowed with unique abilities. Only joint efforts will allow friends to defeat the usurper in order to live happily ever after. The power of the cannibal Shrek, King Arthur's Excalibur, Fiona's fighting moves and other characters' trademark tricks will take the enemy by surprise!
Two dozen bright scenes. Adventures will lead the heroes not only to familiar places, but also to completely new places for them. The surroundings of the Academy, the Pirate Ship, the Evil Queen's Castle - some episodes were created specifically for the game and are not shown in the cartoon!
Serious adversaries. Shrek and his friends have to face powerful villains. The battle with each of them is a whole event! The prince and his minions will cause a lot of trouble, but with your help, the heroes will succeed.
Use your brains. Friends cannot achieve their cherished goal by relying solely on strength. There are many original puzzles and difficult tasks on their way, the solution of which requires ingenuity and rich imagination.
Bonuses for sale! Scattered across Far Far Away, coins can be used to buy new costumes for heroes, unlock additional characters, and even get access to Pinocchio's sparkling sayings!
Six modes of collective game. Go to the world of Far Far Away with your friends. There are six thrill rides to choose from: Castle Attack, Shreckboard, Frog Herding, Shooting Range, Catacomb Jumping and Shipboarding. Find out which of you is worthy of the title of Good Cannibal!
---
GAME INFO
---
Game Name:
Shrek the Third
Platform:
PlayStation Portable (PSP)
Developer:
Amaze Entertainment