750 games PlayStation Portable



---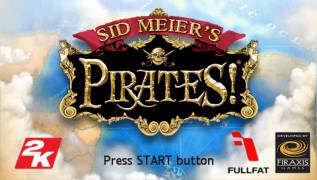 Sid Meier's Pirates!
Who would have thought that the endless Caribbean Sea, along with all the pirates of Sid Meier, would ever fit in your pocket?! On the compact PSP console, the same game was released that has already twice won the love of millions of fans and worldwide recognition. Now the search for treasures, the capture of merchant ships, the assault on impregnable fortresses will once again become an integral part of your life! In the fate of a filibuster, romance always goes hand in hand with mortal risk. In Sid Meier's Pirates! you are a brave adventurer, willing to take on any adventure in order to achieve your cherished goal. Assembling your first crew and buying a small boat, you will embark on a perilous journey towards wealth and glory! Serve the king or engage in robbery, look for treasures or trade. Capture fortresses, buy ships, and one day you will definitely become a thunderstorm in the Caribbean! Of course, unless you are first sent to feed the sharks. Glory awaits! The to-do list is huge! Look for treasures, attack ships, storm fortresses, but don't forget about personal motives. What could be more important than the secrets of missing relatives? Convenient control! The game is fully optimized for PSP features. The wide screen allows you to quickly issue orders while maintaining the majestic beauty of the seascapes. Night sabotage and urban battles! A real pirate knows how to survive not only at sea. Sneak into heavily guarded cities, and if you are spotted, fight for your life like a cornered wolf! The art of wielding a saber will have to be mastered as carefully as the skill of sailing a frigate. A battle of captains! The enemy team is strong as long as its leader is alive. Only in a fair fight between two captains will the fate of the ship, treasures and priceless glory be decided. Pirates don't buy ships! Taking on floating fortresses for boarding is a whole mini-game. Breaking onto the deck, capturing the cabin and searching for the enemy captain is breathtaking. As long as the leader of the enemy team is alive, the resistance will not be broken! Treasures will be enough for everyone! In a multiplayer game, four heroes will raise black flags over the sails! Adventures in the endless waters of the Caribbean will be enough for everyone, because the game cards are huge!
---
GAME INFO
---
Game Name:
Sid Meier's Pirates!
Platform:
PlayStation Portable (PSP)