750 games PlayStation Portable



---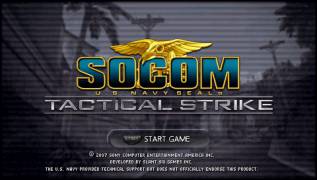 SOCOM: U.S. Navy SEALs Tactical Strike
Restless neighbors are worse than a headache, but that's not so bad. Imagine that people living nearby began to threaten you with war and nuclear weapons! It is in such a difficult situation that the United States found itself in the game SOCOM: US Navy SEALs Tactical Strike. Radical rebel forces have carried out a military coup in South America and now intend to spread the flames of revolution to the north. To complete the picture, the fanatics captured the ambassador of the United States. However, the situation is by no means hopeless - just another task for the SEAL squad.
The fighters of the elite unit will go a long way through the cities of Panama, and complete the mission in the wild tropical jungle. The most modern weapons, the latest technology, impeccable training and perfect skills will be a great help in the upcoming operation. However, its outcome depends only on the well-thought-out orders of the commander, that is, on you.
Continuing the best traditions of the series, the new episode supports the multiplayer mode. Up to four teams will be able to converge on one map and find out which commander has a stronger grip. For the first time, under the control of each participant is a detachment of four people who carry out any orders and skillfully act in a difficult environment. This means only one thing - the battle will be hot!
---
GAME INFO
---
Game Name:
SOCOM: U.S. Navy SEALs Tactical Strike
Platform:
PlayStation Portable (PSP)
Developer:
Slant Six Games