750 games PlayStation Portable



---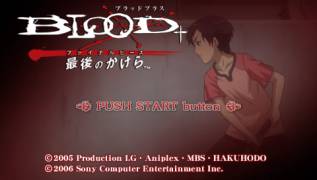 Blood+: Final Piece
This title is based on the popular anime Blood+ and looks more like a cartoon than a game.
IG presents a visualization game of the famous anime Blood+, which will contain four interactive stories, named File 00, 01, 02, 03. All graphics and videos were made specifically for Final Peace, and despite the small PSP screen, they capture their view. All stories intersect with the original Blood+ world, and in them Saya Otonashi still goes to school, contacts the Red Field and fights Yokushu, getting into a variety of unusual situations.
To support the storyline, 19 new characters were also included in the game, along with 8 original ones. Final Peace is an interactive game, and in order to successfully complete it, you will have to apply a lot of skills in the field of solving puzzles and solving mysteries. The story has a huge amount of variation, and your choices, your actions and your decisions will change the course of the game. And, of course, Haji will still help the main character Saya if she gets into trouble.
---
GAME INFO
---
Game Name:
Blood+: Final Piece
Platform:
PlayStation Portable (PSP)
Publisher:
Sony Entertainment