750 games PlayStation Portable



---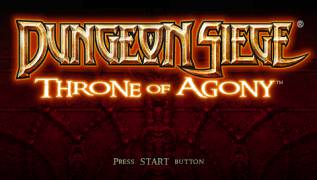 Dungeon Siege: Throne of Agony
The legendary role-playing series Dungeon Siege is rightfully considered one of the most worthy successors to the traditions of Diablo. Several of her episodes on PC quickly won the love and respect of fans. Always exciting stories full of surprises and surprises; bright, dissimilar characters, unusual tasks and invariably spectacular battles - it's impossible not to fall in love with Dungeon Siege!
Dungeon Siege: Throne of Agony is the series' debut on the PSP pocket. Especially for the new game, the authors created a unique storyline, came up with characters that had never been seen before, and drew a whole world inhabited by mysterious creatures and full of dangerous secrets. It will take you at least fifteen hours to figure out the intricacies of insidious intrigues and defeat the main enemies. Risky adventures await!
Create your hero! There are four characters to choose from, eight heroic and sixteen legendary classes. Which path your avatar will take is entirely up to you.
Four-legged friends will come to the rescue! Bring along a loyal animal or an AI-controlled companion. Animals not only enduringly carry luggage, but also participate in battles themselves, and a comrade-in-arms will cover his back in difficult times.
It's not safe in the woods here! The huge virtual world is inhabited by more than a hundred varieties of bloodthirsty monsters: some of them are familiar from previous adventures in Dungeon Siege, but most of them you have never met before.
You have everything you need to defeat Evil! More than a hundred spells and unique abilities, dozens of deadly weapons and even vehicles, both water and air, will not let you get lost in dangerous journeys.
Travel with a friend! Pair a pair of PSPs and go on an adventure together! Everyone can take a tame beast or a faithful friend with them - the team will thus grow to four characters.
Fight with a friend! If there is no time for a full-fledged campaign, go to the arena and fight for the title of champion in the Dungeon Siege universe.
---
GAME INFO
---
Game Name:
Dungeon Siege: Throne of Agony
Platform:
PlayStation Portable (PSP)
Developer:
SuperVillain Studios