750 games PlayStation Portable



---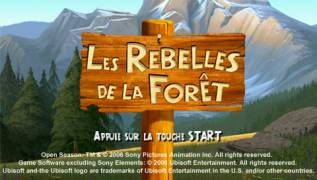 Open Season
The game, created by one of the most famous game studios - Ubisoft, will allow you to feel all the humor and adventure spirit of the original cartoon. The developers have been able to create a fun interactive world that reflects the comedic storyline and funny situations from the movie, a world where you can once again meet the amazingly charismatic characters of the Open Season.
Open Season for PSP is just the same filled with exciting entertainment in the open spaces, where a motley mass of forest dwellers are preparing surprises for unsuspecting hunters. Good-natured, accustomed to the homeliness of his lair, a grizzly named Boog succumbs to the persuasion of the black-tailed deer Eliot to go in search of a better habitat. As a result, Bug is lost in unfamiliar forests just 3 days before the opening of the hunting season. Instead of accepting the current state of affairs, Bug finds strength in himself and gathers a team of forest dwellers like himself, who for one reason or another find themselves far from home. Together, a close-knit team is ready to give a serious rebuff to unwanted guests.
Players will have the opportunity to control both Boog and Eliot, who will throw skunk bombs, control squirrel acorn attacks, scare unlucky hunters in a variety of ways. In the multiplayer mode, the developers have prepared for us several mini-games for 4 people.
Open Season for PSP is:
- Meeting with your favorite characters of the animated film of the same name.
- Ability to control Bug and Eliot.
- Unusual weapons: Bomb skunks, acorn-shooting squirrels and many other ways to scare unlucky hunters.
- Mini-games online for up to 4 people.
---
GAME INFO
---
Platform:
PlayStation Portable (PSP)
Developer:
Ubisoft Montreal