750 games PlayStation Portable



---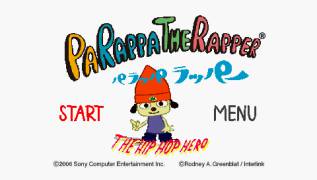 PaRappa the Rapper
Rap is not just a musical direction, but a whole lifestyle that appears in a completely unusual form in the vastness of the PaRappa The Rapper universe . A game from colorful, extraordinary masters simply could not turn out "the same as everyone else." Amazing music from the Japanese composer Masai Matsura and an unimaginable world, invented by American artist Rodney Greenblat, will forever be remembered by everyone who encounters them. First appeared on the Sony PlayStation ten years ago, PaRappa the Rapper gives PSP owners a bouquet of bright emotions, a charge of vivacity and a sea of ​​life-affirming humor.
The protagonist of this crazy story, Parapp the puppy, fell hopelessly in love with the Sunny Fanny chamomile. But in order to win the heart of a beautiful lady, it is not enough to compose folding texts and read them to rhythmic melodies. The young man sets off on a journey through a colorful world to comprehend the many wisdoms necessary for a real man, and his exceptional musical abilities help to get out of the most difficult situations with honor and a smile.
Crazy reality. From the Japanese "parappa" is translated "thin as paper." All the characters in the colorful 3D world are really flat, yet each of them moves with the grace of a professional dancer.
Psychedelic Heroes. An extraordinary universe is inhabited by no less extravagant characters. The hero of the occasion is a puppy in colorful rapper pants, his girlfriend is a cheerful daisy, the teacher is an onion with arms and legs. On the way, friends will also meet elk, King Kong and many other funny creatures.
A good response is the key to success. In order for Parappa to do everything right and not stray from the harmonious rhythm, you must press the buttons in time, exactly repeating the combinations that appear on the screen. When first-class rap sounds from the speakers, and passions rage on the display, it is impossible to break away from the musical fun!
Familiar melodies do not get old over the years! The rap classic performed by Masai Matsura has become even more melodic. However, the original collection can easily be refreshed with eight remixes that can be downloaded to the PSP using wireless technology.
Participate in epic rap battles! PaRappa The Rapper has a four-player multiplayer game. Connect your PSP and compete against each other for the title of the best rapper! All you need is one copy of the game, as the demo level can be downloaded to all four consoles using Game Share technology.
---
GAME INFO
---
Game Name:
PaRappa the Rapper
Platform:
PlayStation Portable (PSP)
Developer:
SCE Studios Japan
Publisher:
SCEI/SCEE/SCEA