750 games PlayStation Portable



---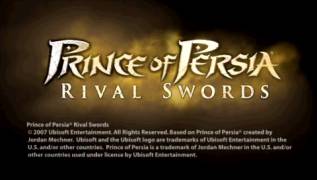 Prince of Persia: Rival Swords
In this game, the Prince makes his way home to Babylon, along with Kaileena, the mysterious Empress of Time. However, upon arrival in his native land, instead of the peace and tranquility that he had been waiting for after long wanderings, he finds his kingdom devastated by war, and in addition to this, Kailina is the victim of an insidious plot. After her abduction, the Prince manages to track how the captive is taken to the palace - but he only manages to witness her execution. The death of the Empress releases the Sands of Time, which inflict their merciless blow on the Prince and threaten to destroy everything that is dear to him in this world. Thrown out into the street, pursued like a driven animal, the Prince very quickly learns that the ominous Sands have corrupted him too: they gave life to the deadly Dark Prince, whose spirit gradually begins to take possession of him... Will the Prince cope with this obsession or will he fall victim to his terrible antipode? This question can only be answered at the end of this excellent game...
The new Versus multiplayer mode will pit the two princes against the clock: the one who completes the level the fastest wins, creating obstacles for the lagging opponent.
Play and control one of two completely different characters. You will have access to the skills and weapons of two warriors with their own unique fighting styles, relationships and stories.
---
GAME INFO
---
Game Name:
Prince of Persia: Rival Swords
Platform:
PlayStation Portable (PSP)
Developer:
Pipeworks Software