750 games PlayStation Portable



---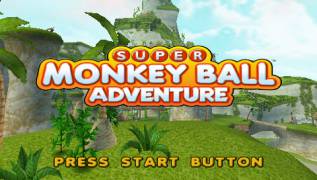 Super Monkey Ball Adventure
Tired of firing a machine gun or swinging a long sword? Welcome to the extraordinary world of Super Monkey Ball Adventure! There are no enemies in the usual sense: the bright virtual universe is completely devoid of bloodthirsty monsters. However, you still have to fight - the enemy is ingenious puzzles, the best weapons against which are logic and ingenuity. And cheerful cheerful monkeys will help you!
Who said monkeys are stupid? Super Monkey Ball Adventure refutes this absurd claim. After all, only very smart and resourceful macaques would have guessed to use large soap bubbles as a vehicle. Can't get to the top of the mountain, don't have the strength to swim across the ocean? No problem! Using glossy shiny balls, you can achieve even more! With the help of their "soap weapons" eared buddies perform all sorts of tricks and pirouettes. Remember, monkeys and soap in capable hands are more powerful than a machine gun. Don't believe? Check.
Monkey hierarchy. Each task is unique, and the individual skills of all monkeys will be useful to complete it. A whole tribe of primates is at your service, in which each monkey has its own role and exclusive abilities. The main missions are carried out by Ayai, Baby, Gongon and Mimi, and they are assisted by Princess Didi and Prince Abebe.
Think less, think more! As you travel through five different kingdoms, you will have to solve many fun and different puzzles. Their number reaches fifty!
Bubble bubble strife! Using various combinations of soap balls, funny little animals give them different properties. Have you ever seen bubbles stronger than wood? Or bubbles sticky like glue? Is it weak to box in bubbles like with gloves?!
---
GAME INFO
---
Game Name:
Super Monkey Ball Adventure
Platform:
PlayStation Portable (PSP)
Developer:
Traveller's Tales