750 games PlayStation Portable



---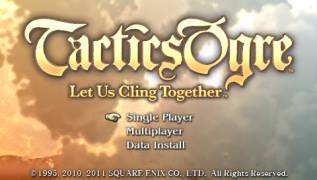 Tactics Ogre: Let Us Cling Together
Let Us Cling Together is a remake of a 1995 Japanese-only tactical RPG. In other words, this release is a debut for the Western market. Original created by Tokyo-based studio Quest; Square Enix is ​​responsible for developing, localizing and publishing the remake.
The game tells about the hard life of the inhabitants of the island of Valeria. While the throne was occupied by a strong and wise king, peace reigned on the island. After a series of accidents, nothing remains of the royal dynasty, and inter-ethnic conflicts overwhelm the country, resulting in a real Valisterian genocide ... In general, we remove grandfather's checker from the wall and march-march to save everyone.
Tactics Ogre is one of the most popular strategy role-playing series. Tactics Ogre: Let Us Cling Together is the only game to have been included in the list of the 20 best games of all time for 14 years in a row, according to the readers of the Japanese weekly Famitsu.
---
GAME INFO
---
Game Name:
Tactics Ogre: Let Us Cling Together
Platform:
PlayStation Portable (PSP)