750 games PlayStation Portable



---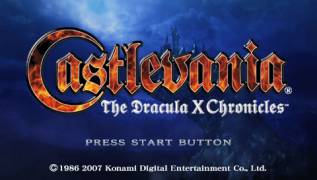 Castlevania: The Dracula X Chronicles
Vampires exist! If you don't believe me, head to Castelvania, the mysterious lands of northern Europe, where the world takes on a frightening look at sunset. Residents lock themselves in their houses and do not go out even in the light of day, churches have turned into ruins, where the bodies of bloodless priests roam, and even birds have long left the damned places. Everything froze and submitted to the advancing Darkness. But Dracula and his servants did not have long to celebrate the victory - the foot of the greatest vampire hunter set foot on the lands of Castelvania!
Castlevania: The Dracula X Chronicles won't give you a second to idle! Bloody battles continuously replace one another, turning over dozens of picturesque scenes, like the pages of a book. The search for Annette, the hero's lover, the hunt for the legendary whip that kills vampires, the assault on Count Dracula's castle and the final meeting with the ghoul king himself - an exciting journey into the universe of nightmares will not let you get bored! The main thing - do not forget to take an aspen stake with you ...
Vampires will not be happy! Two brave heroes decided to participate in a crusade against evil spirits at once. Richter Belmont and his faithful companion Maria are professional vampire hunters, each with their own tricks and abilities!
Visiting Dracula! The series of battles begins in the countryside and ends in the castle of Count Dracula himself. Ten exciting episodes with a variety of enemies, riddles and traps, gloomy backgrounds and intriguing musical themes make you want to play again and again!
The new face of an old fairy tale! One of the most famous Japanese artists, Ayumi Kojima, worked on the character design. Characters stylized as anime cartoon characters have acquired a special flavor!
Return to Castelvania! Castlevania: The Dracula X Chronicles can be played over and over again. Different levels of difficulty and secret missions appearing in new places only increase the desire to challenge the vampires!
---
GAME INFO
---
Game Name:
Castlevania: The Dracula X Chronicles
Platform:
PlayStation Portable (PSP)