750 games PlayStation Portable



---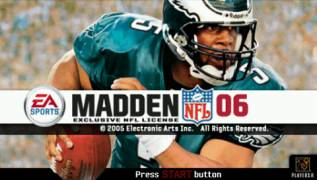 Madden NFL 06
The Madden NFL game series has sold forty million copies around the world, hundreds of thousands of virtual football players on the planet have recognized the series as a leader in the genre. And what is the best incentive for new achievements, further improvement and evolution than the love of fans? Madden NFL 06 opened up new horizons for the entire series. Never before has control been so convenient, and combinations with passing the ball so sophisticated and ingenious. If you are not afraid of the inevitable brutality of American football, if you have the will, courage and an unquenchable thirst for thrills - Madden NFL 06 is open to you!
The revolutionary QB Vision system puts you in charge. Now you can quickly identify defenders on the opposing team and quickly neutralize them!
Realism is the key to success. There will be no more "blind serve" in Madden NFL - players have learned to turn their heads and keep a close eye on the sword!
Madden NFL 06 is not only a game, it's a lifestyle! You can plunge into the world of American football both on and off the field. The style of the controlled football player is in your power, including his hairstyle and tattoos. You can hire agents and act in films at their suggestion, however, you first need to earn popularity and love from the masses. You will also have your own house with a detailed interior and your own website on the Web!
Continue your career! You can transfer NCAA Football Legend or NFL Street 2 players to Madden NFL 06!
Alone in the field - not a football player. Madden NFL 06's extensive networking options will allow you to quickly find a live opponent in your "weight class".
Enjoy "live" comments! All events on the field are described personally by John Madden. Plus, you'll hear clips from Tony Bruno's own football radio show!
Exclusive mini-games! Experience ten new perspectives on American football in ten unique rides.
Collective game without wires! Madden NFL 06 takes full advantage of the system's WiFi capabilities!
Assistant Coach mode. You have been trained a lot and often, but now it is possible to pay with the same coin. Feel like a coach in the exclusive Assistant Coach mode!
---
GAME INFO
---
Platform:
PlayStation Portable (PSP)