750 games PlayStation Portable



---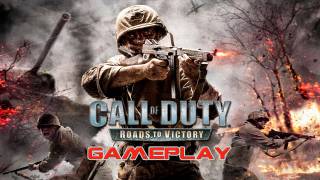 Call of Duty: Roads to Victory
Among the countless games about World War II, the Call of Duty series deserves its place of honor. Now cinematic scenes of epic battles, covert operations behind enemy lines and large-scale battles on the ruins of European cities appeared on the PSP. For the first time you have a chance to plunge into the atmosphere of the forties, no matter where you are.
The war is on all fronts, and the cherished victory is still far away. Fascist Germany sent huge forces to the newly opened second front. The Allies are having a hard time. The best units of the Wehrmacht are on a victorious march to the west, capturing more and more new territories. You have to alternately manage completely different heroes fighting for one just cause. A private in the 82nd Airborne Division, a rifleman in the First Canadian Army and an elite fighter in the British Parachute Regiment, the three of them had a difficult test. Join and show them the way to victory!
They only dream of peace. Call of Duty: Roads to Victory's three long-running campaigns consist entirely of new missions designed exclusively for the PSP. You have to face the fierce resistance of the Nazis in thirteen exciting episodes.
The war will not be delayed. Being under heavy fire, you do not have to get confused in the buttons. The developers have made sure that the player quickly and clearly reacts to changes in the situation. Squatting down, throwing a grenade or targeting an enemy - any action is performed intuitively.
Stay alive. In Call of Duty: Roads to Victory, you will find yourself in the middle of nowhere more than once. Machine gun fire, sniper fire and unexpected air raids - feel the atmosphere of a real war!
Unlock all secrets. Call of Duty: Roads to Victory can be played over and over again. Each time you will receive additional weapons, vehicles and other nice bonuses.
collective battles. Get together with your friends and give the Nazis a good beating! The famous Deathmatch, Capture the Flag and King of the Hill multiplayer modes allow up to six players to play at the same time!
---
GAME INFO
---
Game Name:
Call of Duty: Roads to Victory
Platform:
PlayStation Portable (PSP)
Developer:
Amaze Entertainment